Yeh Hai Mohabbatein 25th January 2017 full episode written update: Court announces 10 years imprisonment to Ruhi
Yeh Hai Mohabbatein 25th January 2017 full episode written update: Court announces 10 years imprisonment to Ruhi
Written by Neha Nigam | New Delhi |
Published:January 26, 2017 1:46 am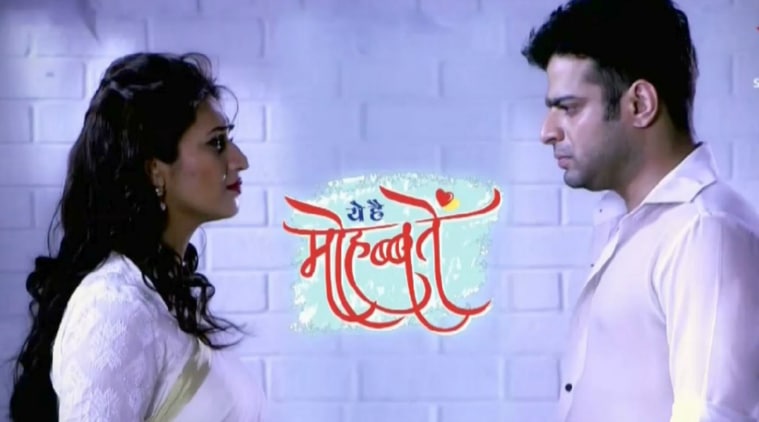 Yeh Hai Mohabbatein 25th January 2017 full episode written update: Suhail tells Raman that just like his sister, even Ruhi will suffer.
The episode starts in the court where Ruhi is confessing of murder. She repeats that Suhail was just trying to save her. Raman and everyone keep saying that Ruhi is lying. Suhail acts like defending Ruhi. He tells her not to take the blame. Raman gets violent and runs to beat Suhail in the court. The judge sends Raman outside the court.
Gaurav brings Ananya home, and asks Simmi to teach some manners to Ananya because she misbehaved with him. Simmi shows her disagreement. Gaurav asks Simmi to tell the truth to Ananya about Param. Simmi says why did he take Param's name when he is not supposed to discuss anything about Param to Ananya. Gaurav says that she should know everything about her father, also that Param had a bad eye on Ishita. Simmi wonders how Gaurav knows about it as she has never told him about this. Gaurav manipulates her and tries to pollute her mind against Param.
There in the court, Suhail gets released from the case as the judgement comes in his favour. However, the court orders police to arrest Ruhi and sends her to juvenile remand home as she is just 17. Later she is asked to be shifted to central jail when she turns 18. Ishita cries loud and begs for the release of Ruhi. She says Ruhi is being trapped and cheated by Suhail. The police is taking Ruhi in a van and Raman, who was waiting outside, runs towards her. The whole Bhalla family cry and console Raman who breaks down. He looses his control and cries too. He gets mad at Ishita and asks her to leave him and his family right now. He blames Ishita for Ruhi's imprisonment. He says that Ishita did a blunder by letting Ruhi meet Suhail in the lock-up. He says because of Ishita, his daughter has to spend 10 years of her life in jail. He says that Ishita's over smartness always puts them into trouble but this time she has crossed all the limits. She will not be forgiven in this case. Mr. Bhalla slaps Raman and asks him to argue at home, also he says Ishita is not the culprit. Raman leaves them and runs towards Suhail. He grabbed him and starts beating him up. Romi tries to hold Raman, but Raman says that he will ruin Suhail's life.
Suhail smiles like a winner, he says that Raman and his family are too gentle to handle him. He threatens to ruin the life of the remaining members of the Bhalla family too. Suhail says that today, he took the revenge and Ruhi will now spend the rest of her life in jail. He says just like his sister is suffering, even Ruhi will suffer. Ishita comes and slaps Suhail. She says that they are good people and they will release Ruhi from the jail. Suhail laughs and leaves.
Raman too sits in the car and follows Suhail. Ishita gets worried and wants to go with him. But, Toshi and Mihika stop her. Toshi asks Ishita to maintain a distance from Raman as his condition is not well and Ishita is of no help. In fact, she is the reason behind Raman and Ruhi's suffering. He takes Raman's side and scolds Ishita. Mihika and Toshi are upset from Ishita's action. They blamed her. Toshi even asks Mr. Bhalla not to take Ishita's side as this time Ishita was wrong. Mr. Bhalla takes everyone home.
Also read | Yeh Hai Mohabbatein 24th January 2017 full episode written update: Ruhi takes the blame on herself
Raman reaches the remand home to meet Ruhi but he is stopped there. They ask him to get the permission first. He meets a lady outside who also came to meet her daughter. She says that the remand home is not less than jail. The condition of the girls here, is very miserable, they turn into criminals. She asks Raman to get Ruhi out of this place as soon as possible otherwise her future will become dark.
Yeh Hai Mohabbatein 25th January 2017 full episode written update: Court announces 10 years imprisonment to Ruhi